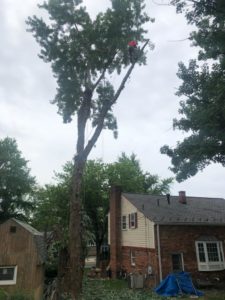 Tree removal service is something that the average person should not attempt to do. Tree removal services should be left to tree professionals. Tree removal, tree trimming and tree pruning is something that can be very dangerous.
At Ricky's Lawn and Landscape, we offer a custom approach to tree removal that is guaranteed to match your needs and budget. Our skilled, insured tree removal professionals guarantee that the job will be done safely and expertly.
Professional tree removal is essential for the safety of your home and property. We offer expert tree removal services including: hazardous tree removal, stump grinding and removal, tree trimming, dead branch removal, storm damage tree removal.
Tree Trimming
While many homeowners in the Northern Virginia area use tree trimming services to ensure the magnificent appearance of their property, tree trimming is also vital to extend the life and health of your trees.  Additionally, we can trim your trees to the shape or size you want.
Tree Trimming For Safety
Fairfax County Virginia is subject to a variety of challenging weather including thunderstorms, the occasional winter ice storm, and even tornadoes. If your tree branches are too large and heavy, this could cause significant damage to your home and property during a storm.  Call on Ricky's Lawn and Landscape to take care of your trees before a storms hit!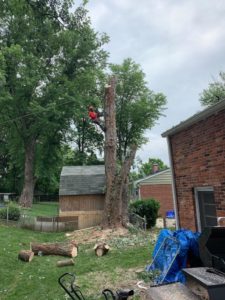 Stump Grinding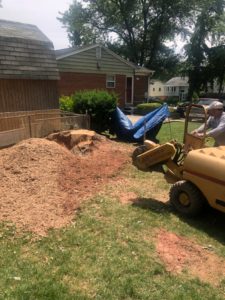 Do you have one or more unsightly tree stumps on your property? Whether they were left there by a previous owner or you never got around to finishing a lot clearing project, the stumps are there  taking up valuable yard space.  Give Ricky's Lawn & Landscape  a call! Our professional  stump grinding service can grind your stumps into nothing and have your land cleared.
When you trust us to execute our renowned tree trimming services on your property, you will receive:
Professional Quality Tree Trimming
Stump Grinding Services
Customized Tree Trimming Services
Courteous and Respectful Customer Service
Prompt and Timely Service
Our equipment is designed to ensure your property is cleared without causing major damage to your yard. We use a walk-behind stump grinder. The advantage of a walk-behind stump grinder is it doesn't require our truck to drive on your property to perform our stump removal service riosking damage to your lawn.
Our team of extensively experienced tree service and stump removal professionals know how to handle your problem effectively, so you'll be free to replace your stump with whatever plant life you would like.
We leave your site clean. We chop the tree branches and haul away the resulting wood chips from any  tree cutting or stump removal process.  Many of our customers ask us to spread the resulting wood chips in mulch beds, playground areas,  or elsewhere.  Let us know if this is something you may be interested in.