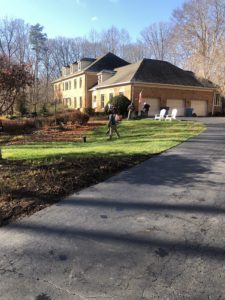 Whether you spend countless hours raking leaves each fall or let them pile up in the backyard, leaf removal is an important component of overall lawn care and is necessary to keep your landscape looking beautiful. It should be done and it should be done regularly –but that doesn't mean it has to be the long, tedious process like it's been in the past.
This year, leave leaf removal to the landscaping professionals at Ricky's Lawn and Landscaping who can provide you with regular service in scheduled intervals. With our leaf removal services in the Northern Virginia area, your lawn will never look so good—so contact us at 571-286-6491 to get started today!
Leaf Removal Options
Leaf Clean up without hauling. Our crew rakes leaves and blows leaves to an area of your choice such as your woods, garden, or compost pile
Leaf Removal with hauling. Our crew rakes leaves and blows leaves to the curb.  We then vacuum and haul away.
Curbside Pick Up – You rake the leaves to the curb and we will come to vacuum and haul away.
Call Ricky's Lawn and Landscape, we have the team that's backed by decades of experience. We are the team with effective leaf removal equipment! Our state-of-the-art leaf vacuum makes getting rid of leaves effective and fast. Ask us about both curbside leaf removal and full-service lawn leaf clean up services. We recommend leaves be removed 3 times a year: late October, around Thanksgiving, and in December.