Enjoy your outdoor space more with the help of our professional power wash that helps get rid of the dirt and grime, and provides a complete restoration. Enjoy having the work done for you, so you can sit back and relax.
Pressure Washing, sometimes know as power washing, is the best way to maintain your largest investment, your home! Dirt, grime, mildew, and algae build up over time and leave your home, driveway, sidewalks, patios and decks unsightly. Maintaining your home with regular pressure washing can greatly increase the longevity of your property. Our fully insured / skilled technicians come prepared with the very best in professional equipment and products to tackle any of your power washing needs. Call for a free estimate today!
There are a multitude of surfaces that can be cleaned with the aid of a pressure washer.
Ricky's Lawn & Landscaping has experience with all sorts of projects. While we specialize in low-pressure vinyl siding cleaning and non-pressure roof cleaning, we are also highly knowledgeable in other areas of cleaning. We are properly equipped to clean concrete surfaces such as driveways and sidewalks. Brick walls and patios are also common practice for us.
Give us a call to take care of the cleaning issues you may have around your Home or Business.
Deck Pressure Washing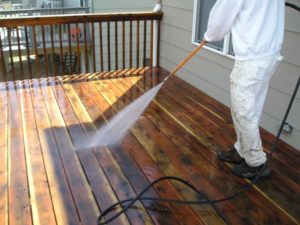 Make Your Deck Look Like New Again With Our Superior Washing Services.
While it can be commendable trying to power wash your own deck, you can also end up doing a lot of damage to it in the long run. Avoid the damages by hiring the skilled professionals at Ricky's Lawn & Landscape. We will come to your home and ensure your deck is restored like new again. Whether your deck needs washing or sealing, we can do it for you. We're licensed and insured for your complete protection.
Wood decks
Composite decks
House Pressure Washing

Vinyl and aluminum siding have always been described as maintenance free. Well, for the most part, it is. But, as time goes by, it starts to lose its shine and begins to get mold and mildew on it. If this mold and mildew isn't removed, it will only spread over the whole house causing more mold and mildew and further tarnishing the appearance of the house.
Concrete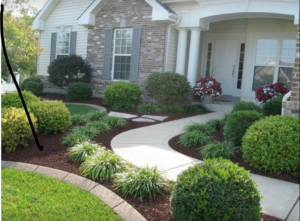 Concrete  sidewalks are not immune to the mold and mildew process either. Over time concrete will  lose the white appearance and begin to get black or even green with mold and mildew. Concrete and brick are very easy to clean and is a very easy way to give a home curb appeal.
Roof Power Washing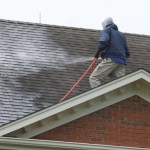 Shingle roofs over time develop black stains over the entire life of the shingle. This is caused by algae. The algae is actually a living organism that is feeding off of the asphalt in the shingle. Left unattended, this creates shortened shingle life, increases electric bills because of the insulating factor of the algae and is just not attractive from the street. Our process involves a high volume and very low pressure to apply professional quality chemicals and thorough rinse. No Pressure Washing Equipment is used in the process!
Call for a free estimate today!