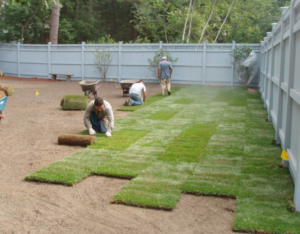 Ricky's Lawn and Landscaping can transform your lawn in a matter of hours with our lawn sodding service. Sod is simply healthy grass that has been grown on a sod farm. It is cut into rolls. The sod has about 2 inches of dirt with it so that the roots stay intact. It works well to immediately address lawn damage due to new construction work.
What to Expect from Our Lawn Sodding Service
Accurate measurement of the sodding area
Prepare the ground area
Install freshly cut sod
Watering Recommendation:
The last thing you want is for the grass to die. Make sure and water properly and thoroughly several times a day. The sod needs a lot of water to start growing its roots into your new yard.
Water the sod 2-3 times daily for short intervals for 10 to 14 days.
After the sod begins to "knit" and is hard to pull up in the middle of each sod piece, begin to water once a day for a longer time period. Do this for about 1 week.
Then water every other day for 2 weeks.
After established. One inch of precipitation per week is recommended.
How Do I Get Started?
To inquire about our Lawn Sodding Service , just call (571)286-6491 and make an appointment . A free estimate will be given to you.