Pavers-Flagstone-Brick – Stone – Concrete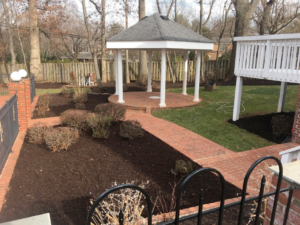 Go Off the Beaten Path with a New Patio
We invite you to take a different path to building your new patio. Step outside the box of the typical patios you've seen, or might already have in your back yard. Ricky's is a custom builder of patios including environmentally friendly permeable paver patios, natural stone patios and paver surfaces. A fantastic patio can redefine your home and tie in all the elements of your outdoor living space.
Enjoy The Outdoors
Homeowners gather on patios to spend time with family and enjoy the outdoors simultaneously. The last thing you want to worry about during a gathering is the quality of your patio.
Commitment to Excellence
With our commitment to using the best products and providing you with the best customer service around, we are confident you will like what we can do to improve your Northern Virginia home.
Custom patio design and installation, pavers, flagstone, brick or concrete. We do know how to build better by using superior skills & best products.
Years of Experience
With our years of experience working with homes in the Fairfax County VA area, we know the best ways to ensure that your new stone patio is protected from damage by the elements and regular wear and tear.