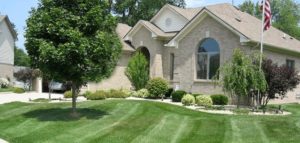 As the 'Green' Industry changes in Fairfax County and throughout Northern Virginia and Maryland, we continue to expand and develop our services and offerings.
We currently offer:
Installation of tree and plant material
Decks, Patios and Terraces
As well as:
Exterior Kitchens
Water Features
Custom Masonry
Pergolas
Stone and Brick Hardscapes
Outdoor lighting
Irrigation
We continually hand select our plant and hardscape materials from local growers ensuring that your home will be enhanced with the most elite products on the market.
When a landscape is designed by a professional, the plan becomes a direct reflection of the clients style. Whether you are a homeowner looking for a landscape plan to implement yourself, or looking for a landscape professional to handle the job, you can feel confident that a landscape plan that is crafted by Ricky's Lawn & Landscape Design Services will incorporate all of your ideas in a creative and unique way. All landscape plans are drawn to scale, clearly labeled and can be supported with construction details as needed. We will meet on your site and discuss your thoughts, ideas and feelings regarding your landscape and what you are looking to accomplish. After an initial consultation with one of our staff we will help you complete a concept that fits within your design and budget parameters.
Landscape Design
The best start to any landscape project is a design. Ricky's Lawn & Landscape can create a design to suit your needs and desires. From a project as simple as a front foundation renovation to a master plan with an outdoor living space and pool, Ricky's Lawn & Landscape has the knowledge and construction experience to create a one of a kind, build-able design.
Project Management
So you have ideas…but what's the best way to see them come to fruition? We have full-time landscape designers on staff. If you are interested in meeting with one of our talented designers, please email or call our office to schedule a consultation. Note: A minimal consultation fee is required.
When you call, our administrative staff will schedule a specific date and time that is convenient for you. There are no annoying blocks of time like the phone or cable company. We pride ourselves on being prompt and prepared!
Depending on the scope of your project, you may require a formal design. We encourage clients with larger projects to have us create a master plan. This will help you visualize our designer's concept. Using the latest landscape design software, we can tailor your landscape to your personal preferences and existing.
Installation
Once you have reviewed and approved your new landscape plan, our experienced landscape installation crews bring your plan to fruition. We supply all of our crews with the best available equipment so we can maintain our superior quality standards. For projects requiring large pieces of equipment, crews are outfitted with special, "turf-friendly" tires to minimize lawn damage.
All of our installation crews average more than 15 years of industry experience. We take pride in our high employee retention rate, as our talented crews are the key to maintaining our high level of quality.
Landscape planning services include:
Master plans

.




Drainage correction plans

.




Low voltage lighting plans

.




Theme garden design

.




Benefits of a landscape plan include:
Accurate take offs for estimating.




Detailed

p

lanting

layout

.




Ability to phase projects, keeping

one vision in mind.