No company gets your gutters cleaned like Ricky's. We're here to save you time, money and trouble when it comes to rain gutter cleaning. We are here to save you the time and trouble of having to clean your clogged rain gutters and downspouts yourself.  Homeowners, renters, property managers and Realtors have trusted Ricky's to take care of their gutters and downspouts since 2012. We are fast, friendly and affordable. Every job receives our 100% job satisfaction guarantee. Our trained technicians have the right equipment, experience and know-how to take of your gutters working properly.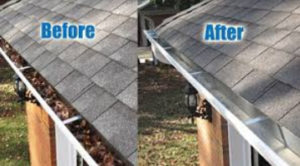 Your home is your most important investment. Water problems can be devastating to your home, causing damage to landscaping, soffits, doors, windows, fascia boards and even your foundation—one of the most expensive areas of your home to repair. Rain gutters will protect your investment, redirecting rain away from your foundation and stopping leaks around windows and entrances. But if those gutters are clogged, they are not doing their job.
Gutter cleaning is a dirty task that no one likes to do. Climbing the ladder to clean your gutters is daunting, time consuming, and dangerous. Clogged gutters result in property damage. The alternative to cleaning yourself is to hire a professional gutter cleaner.
Our gutter cleaning specialists ensure that our clients receive the best gutter cleaning service available. We are equipped with the right tools and are prepared to provide quick and complete relief from clogged gutters and downspouts. Our experienced service technicians will remove all debris and long standing clogs from your gutters and downspouts.  Inspect your roof and gutters and report on any notable issues or concerns Bag and remove all debris from the premises.
You can also choose to have your gutters
Down Spouts Inspected
Spikes re-nailed
Why not get a quote and see the difference Ricky's can make on your gutters? We offer our gutter cleaning services for Fairfax County, Alexandria City, and surrounding Maryland and Northern Virginia areas. Call for a free estimate today.