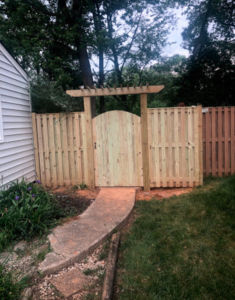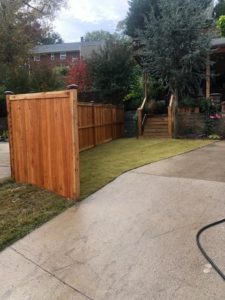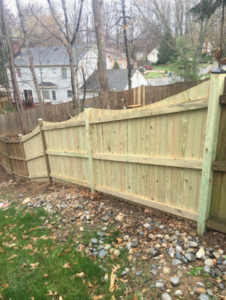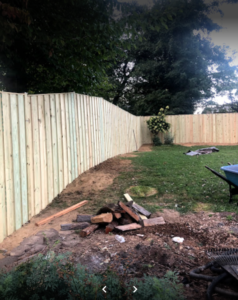 New Quality Fences Installed Correctly
Ricky's Lawn & Landscape constructs many different types of high quality wood and Vinyl fencing. Wood fencing provides an affordable option for those who want a good looking fence and a lower rate than vinyl or aluminum. All of our wooden fencing is hand-built on site using the best materials available. Our experienced fence builder constructs more than 200 fences per year.
We install fences with the most attention to detail and the best possible finished product. We have been in the fencing business for years, and our installers all have years of expertise and experience in the measuring and installation of fence systems.
Wood Fences
Wood fencing has always been a classic when it comes to fencing. This is all for good reason too. A wood fence is one of the few types of fencing that can be fixed fairly easily and will look good even when it has been in the elements of Maryland & Northern Virginia for 10+ years. We offer a variety of wood fence styles including privacy and picket fence options. We can customize it to fit any style you want. We also offer a staining service so you know that your wooden fence will look great for years to come. Contact us today about getting the fence that you want installed by our professionals!
Styles
Our styles include privacy, shadowbox, picket, and almost any custom project you bring our way. Our master carpenters can handle almost any and every custom fence job.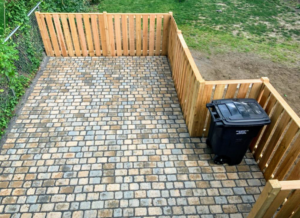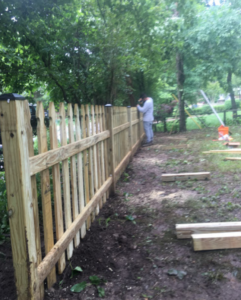 Vinyl Fence / PVC Fencing
Over the last few years, Vinyl fencing has become the go-to material for many homeowners when deciding on fencing options. It is easy to tell why. It is durable, comes in a variety of colors, and can oftentimes be budget-friendly. This is one of the reasons our fence installation experts here in the MD & NOVA area love to install it on a regular basis. Contact us today to find out about all the options for installation!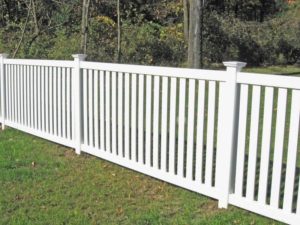 Our carpenters are skilled at completing projects with high levels of difficulty, such as custom built pergolas, arbors, colonnades and A/C unit screens and trash bin screens. We set all of our wooden fence posts in a minimum of 24″ of concrete. This ensures long term strength and durability. Many contractors will try and cut corners by not placing the posts in concrete. Rest assured, we have the skill and knowledge to complete your project the right way.
Each type fence has its advantages for certain applications. We can help you determine which type of fencing solution might be best for you.
We look forward to meeting you and discussing how we can serve you. Call us today for your free estimate.