Hardscaping Services – Quality for Life – Get Inspired!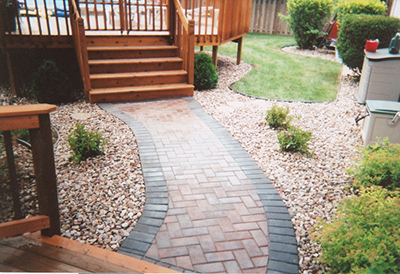 Our experienced landscapers create permanent outdoor structures to bring a distinctive appearance to your landscape. The hardscape that we design are created with architectural skills and creative vision. We focus on functionality as well as the aesthetic qualities. Want to improve your landscape by adding pathways and stepping stones?  Call or email us today for your free estimate.
Create an eye-catching walkway, patio or driveway with our professional resources. Ricky's Lawn and Landscape have been experts in the trade since 2012 serving local Northern Virginia homeowners. We are proud to bring our quality craftsmanship to you for your next hardscape project.
Ricky's Lawn & Landscapes wants to help you bring family and friends together through amazing outdoor living spaces. That's why we use only the best assortment of distinctive pavers and retaining walls setting the standard for quality, beauty, and durability. We can even offer stain resistant pavers for long term beauty.
Walkways
Patios
Stepping Stones
Stairs
Driveways, and More
We can design a new hardscape beauty to your home using flagstone, brick, or pavers. With the use of high-quality stone, we can transform your property.
Replace or Repair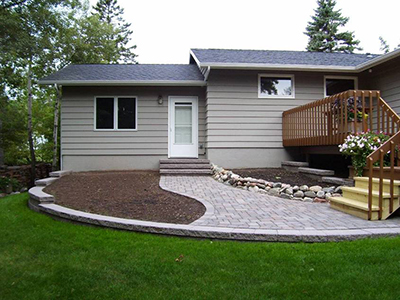 Often, we are able to repair older walkways with cracks or other problems our designers can counsel you on the best way forward. Naturally we can start fresh with a whole new design with current materials to upgrade your living environment.
Ricky's experienced designers and installers ensure you will be able to rely on years of trouble-free use. It takes the professional skills of Ricky's Lawn and Landscape to use correct materials and properly lay brick and stone. Pavers are resistant to spalling – flaking caused by moisture and cold. Modular bricks are even better and are recommended in areas that will be traveled by heavy vehicles.
The use of concrete pavers, often referred to as paving stones, is growing rapidly on both commercial and residential construction projects. Pavers interlock to form a patterned surface which can be put into service immediately. Pavers are manufactured in various textures and colors.
Materials
Pavers
Brick
Flagstone
Concrete
We are one of the prominent providers of hardscaping services in Northern Virginia. Our passion and dedication are evidenced by repeat customers and referrals of friends and family throughout Fairfax County and Alexandria VA. We use interlocking concrete pavers & segmental retaining wall blocks. Our hardscaping experts have a vast array of textures, colors and dimensions to give your project a unique appearance.