Quality Fences Installed the Right Way, by The Right People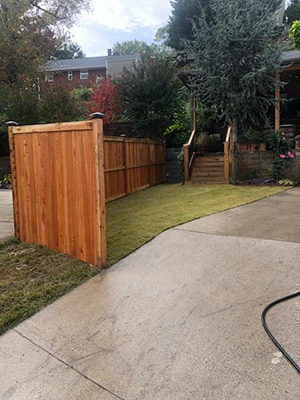 When you are looking to add beauty and value to your home, do you know one of the easiest and most lasting things that you can do? It's not the roof, and it's not a backyard pool. The answer is in quality fences, A fence can help you on so many levels and in so many ways. And we are the company that can do it right for you. We are Ricky's Lawn and Landscaping, and we are undisputed source for the best fences in the area. We install a variety of wood, and vinyl fencing. We install fences with the most attention to detail and the best possible finished product. We have been in the fencing business for years, and our installers all have years of expertise and experience in the measuring and installation of fence systems.
Receive fencing from the team at Ricky's Lawn and Landscaping in Fairfax County Virginia and surrounding areas. Contact our knowledgeable and friendly sales team to get a free estimate. Our trained professionals will install quality materials and leave your home clean and looking better than ever.
Beauty – Nothing adds beauty to your home like a new fence. All of our fences enhance the quality and aesthetic appeal of your house, and we can do it in either wood fencing, or PVC fencing. When you are looking for beauty, durability and low maintenance, PVC is a great way to go.
Increase property value – A good looking fence easily increases your property value.
We are the very best – We are more than just expert fencing installers. We are the very best at everything we do with your fence. We operate on the principles of honesty, satisfaction and complete integrity.
Each type fence has its advantages for certain applications. We can help you determine which type of fencing solution might be best for you.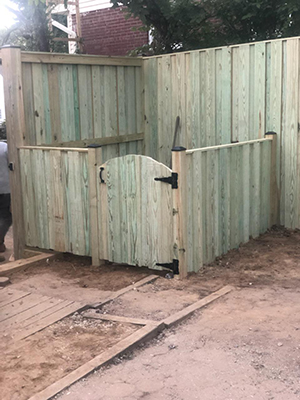 Wooden Fences
Through the years, wood fencing has always provided warmth and comfort because of its natural beauty. Whether it is a rustic post and rail or a high-end custom fence, a traditional wood fence blends into any background, enhancing your property and landscaping. All of our wood fences are manufactured with high quality wood and available in a variety of styles and sizes.
PVC & Vinyl Fences
Ricky's has many different styles and color options to choose from to match any home. From privacy fences to a short, open-space, picket fence, Ricky's satisfies all of your fencing needs.
All PVC fences are installed with concrete footings and come with a lifetime warranty. When it's variety, durability, and beauty you desire, a PVC fence from Ricky's is for you!
We take great pride in our reputation, and our customers always come first. The largest percentage of our business is generated through customer referrals; satisfied customers telling others who in turn become satisfied customers continuing the cycle.
We look forward to meeting you and discussing how we can serve you.
Call or Email Us Today For Your Free Estimate.