Drainage Systems & Solutions Contractor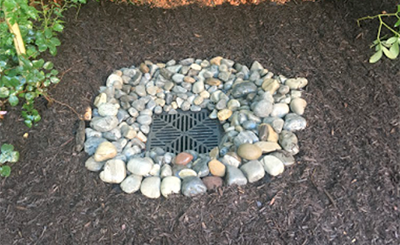 A most important factor for any landscape design is proper drainage. Neglecting drainage issues can get very expensive and problematic.
Proper drainage is a critical part of your landscape that is often overlooked by inexperienced contractors. Virtually every one of our projects has a drainage component to it. Our designers are experienced drainage professionals. When your property grounds do not drain properly you are at risk of significant property damage. This can also kill grass, flowers, plantings and trees.
Ricky's specializes in custom drainage systems and solutions for different types of water issues in your landscape and around your home. We design and install underground drainage used for collecting, diverting, and draining water from one location to another. Most importantly, we install drainage systems that are pitched from end to end, so water can properly flow through underground drain pipes by gravity.
We offer a full range of drainage options, such as:
Catch Basins & Channel Drains
Downspout Piping & Drainage
Dry River Beds
Dry Wells
French Drains
Pop Up Emitters
Slotted & Perforated Drain
Trenching
Underground PVC Drain Pipes