Concrete Contractors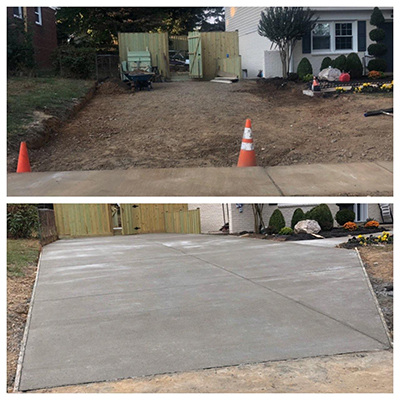 Welcome to Ricky's Lawn & Landscape, a most sought-after concrete contractor in Northern Virginia. We are professional landscapers offering in poured concrete for driveways, patios, walkways, sidewalks, and stairs. Our team of experts, have many years of experience in this field, and will ensure your home concrete needs are meet. We have undertaken numerous concrete jobs in Alexandria, Arlington, Falls Church, Annandale, Springfield, McLean and surrounding Fairfax County areas. Our client's satisfaction is of utmost importance to us. You can count on high quality, efficient work from the team at Ricky's Lawn & Landscape.
We are fully licensed and insured. We remove all types of sidewalk violations including trip hazard, cracked concrete, and patchwork. Our expertise will guarantee everything takes place without a glitch. When it comes to concrete works there is no one that can give a better run for your money. Whatever your needs may be whether it's a concrete repair, sidewalk or backyard patio concrete, you can rest assured we will do a thorough and complete job. In addition to concrete construction, we also remove concrete constructions in need of repair. Our trained staff will ensure removal of concrete is done is such a way that no harm comes to your property.
Our team of experts delivers "rock solid" results on your outdoor concrete projects.
Call or Email Us Today For Your Free Estimate.